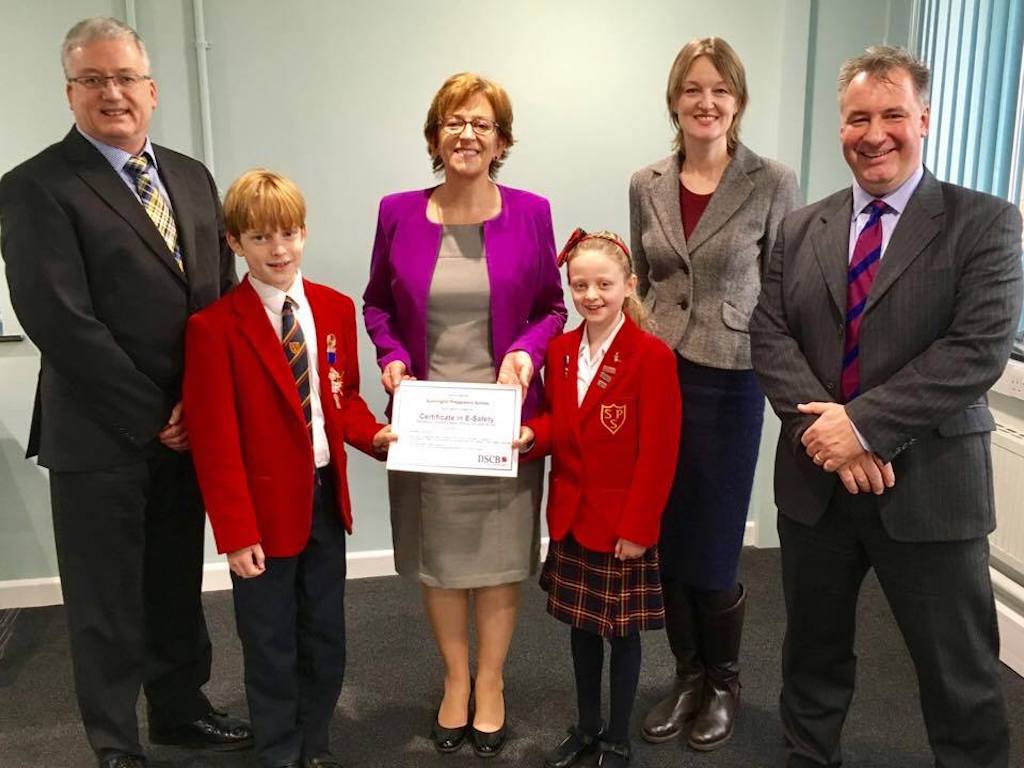 Sunninghill are extremely proud to be the very first school in Dorset to be presented with an E-Safety Certificate by the Dorset Safeguarding Children Board. 
Mrs Nancy Sewed, our Director of Studies, sits on the Dorset Safeguarding Children Board Anti-bullying and E-Safety Group and worked closely with Sarah Badley (Internet Safety Police Officer) to ensure our school was embracing best practice. Very many thanks to Sarah Badley from the multi award winning  Dorset Safe Schools and Community Team for visiting the school and advising us all on aspects of E-Safety.  (If you require further information you can contact:  https://www.dorset.police.uk/neighbourhood-policing/safe-schools-team/)
Sunninghill will now go on to help other schools up-skill so children across the county can learn how to keep themselves safe online.  Interestingly it is not mandatory for schools to have an e-safety program as part of their curriculum and with many children receiving new technology as Christmas presents that gives them access to the internet, we are best placed to help deliver the message to parents, teachers and pupils. 
Anti-bullying and E-Safety often go hand-in-hand. A recommendation from our E-Safety audit was that we further empower pupils in the delivery and development of Anti-Bullying and E-Safety initiatives. To this end, Mrs Sewed and Mr Stazicker have arranegd for us to host a Diana Award Anti-Bullying Ambassadors Regional training Day on Monday 17th January in our school hall.  We have several schools attending plus Diana Award Ambassador trainers are coming from London to work with the children.  They will be covering areas that will give children the skills to use in everyday life and the children will be learning through games, video, action plans and networking with children from other schools.  Most importantly the day will give the children the tools to take back to their schools and spread the word and set up their own initiatives.
Sunninghill is committed to working with our pupils to prevent bullying and ensure that they stay safe on-line. The photo shows two of our pupils being presented with the E-Safety award on behalf of Sunninghill.