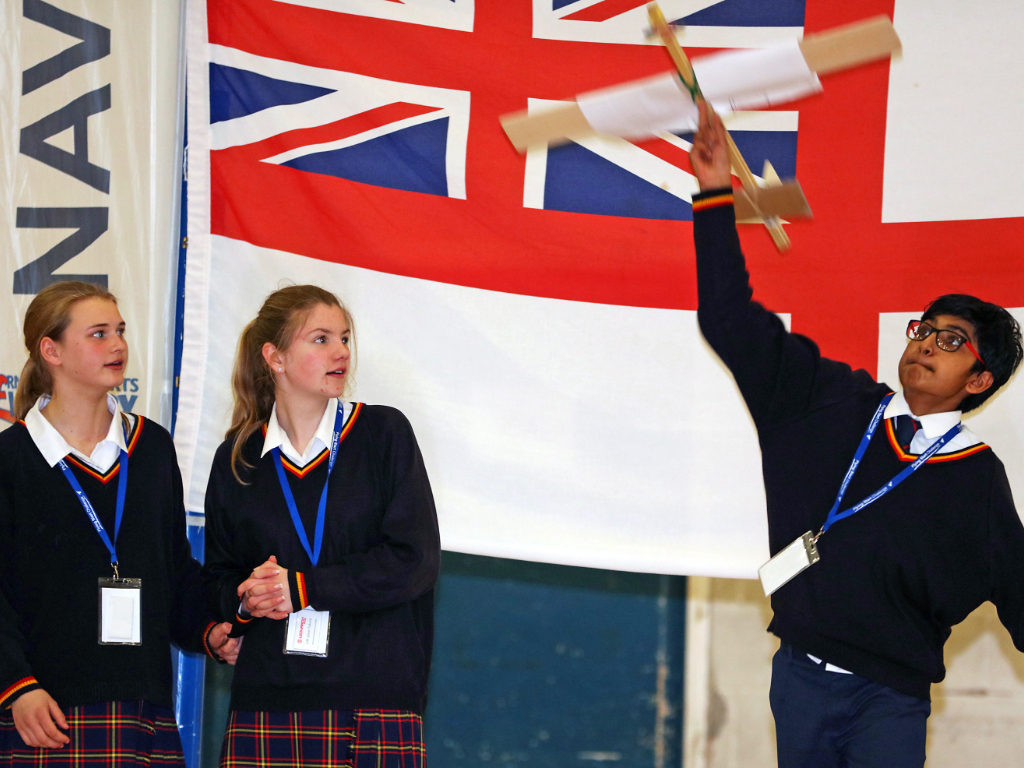 On 22nd February, our Year 8 pupils carefully loaded up the buses with their gliders and presentations to compete in the Regional Final of the Flying Start Challenge at Leonardo Helicopters, Yeovilton. At Sunninghill, we are fully committed to ensuring that our pupils have opportunities to develop their STEM skills both in and out of the classroom and this kind of challenge is a perfect fit with our curriculum.
For the past 6 weeks, engineers from Leonardo Helicopters have been working with pupils to teach them the principles of flight. Groups of 4 pupils were challenged to design and construct a simple glider based on reusable materials, capable of carrying a small payload. At the Regional Final, each team completed a number of engineering challenges, an interview with Navy Flight engineers and a fly off!
Our teachers' favourite moment (Mrs Brunt & Mrs Sewed) was when Olivia accidentally burst a balloon during a challenge. The explosion was so loud, security came running!
We are pleased to say that five of the top nine teams who made it through from the Regional Final were from Sunninghill. Our other two competing teams were very close and placed 10th and 11th! This is our most successful year to date.
One team (MLP) is through to the Grand Final on the 22nd March at Fleet Air Arm Museum. They will take part in a poster presentation, two engineering activities as well as the fly off which will close the day. The winners of the fly off will receive the prize of a flight in a glider. The four other teams invited to attend the day will compete in the engineering activities where there are still prizes to be won.
The Grand Final offers opportunities for the young people to receive an address from a prominent engineer, participate in engineering challenges, trivia trails around the museum, explore a glider and helicopter (weather and flight operations permitting) and for those teams that did best at their regional finals, the opportunity to fly their gliders under a Concorde prototype.
Photo by Dan Rosenbaum, RNAS Yeovilton